Identification
CAS Number
UENA-0193
EC Number
2.7.7.49
Name
RNase inhibitor (Recombinant)
Properties
Definition of active unit
Definition of active unit: 1 active unit is defined as the amount of enzyme needed to inhibit 50% of RNase A activity (RNase A activity is determined by inhibiting its hydrolysis of cytidine 2′ and 3′-cyclic monophosphate.).
Safety Data
RIDADR
NONH for all modes of transport
WGK Germany
3
Specifications and Other Information of Our RNase inhibitor (Recombinant) CAS UENA-0193
Product Introduction
This product is the murine RNase inhibitor recombinantly expressed in E. coli. It binds to RNase to form a complex, thereby inhibiting RNase activity and protecting target RNA from degradation.
Product Features
Efficient inhibition of the activity of RNase A, RNase B and RNase C, no nuclease contamination, no residual microbial-derived DNA. Improving the yield of all RNA experiment products and the mRNA integrity of IVT products. Suitable for almost all experiments sensitive to RNA integrity.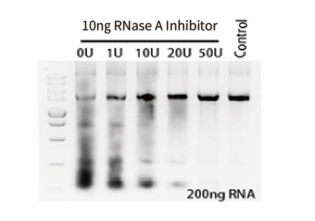 Product Composition
Item No.
Composition
Storage Temperature
(℃ )
20KU
200KU
I
RNase Inhibitor (Recombinant) (40 U/μL)
-20
0.5mL
5mL
Quality Control
Purity ≥ 95%, residual host cell DNA ≤ 100pg/mg, residual host cell protein ≤ 50ppm, residual endotoxin ≤10EU/mg, no residual RNase, endonuclease, exonuclease or protease, germ-free, pathogen-free.
Links
This product is developed by our R&D company Watson International Ltd (https://www.watson-int.com/).
https://www.watson-bio.com/wp-content/uploads/2022/03/New-logo.png
0
0
Janice Zhang
https://www.watson-bio.com/wp-content/uploads/2022/03/New-logo.png
Janice Zhang
2021-09-23 05:34:06
2021-09-23 05:34:10
RNase inhibitor (Recombinant) CAS UENA-0193