Official Full Name
Recombinant Ovine Interferon-tau (rOvIFN-τ)
Synonyms
Squence

Amino Acid Sequence
CYLSRKLMLD ARENLKLLDR MNRLSPHSCL QDRKDFGLPQ EMVEGDQLQK DQAFPVLYEM LQQSFNLFYT EHSSAAWDTT LLEQLCTGLQ QQLDHLDTCR GQVMGEEDSE LGNMDPIVTV KKYFQGIYDY LQEKGYSDCA WEIVRVEMMR ALTVSTTLQK RLTKMGGDLN SP
Synonyms
Accession
Gene ID
Summary
IFN-τ is a new class of type I IFN that is secreted by the trophoblast and is the signal for maternal recognition of pregnancy in sheep. IFN-τ has potent immunosuppressive and antiviral activities similar to other type I IFN but is less cytotoxic than IFN-alpha/β. The current investigation concerns the effect of recombinant ovine IFN-tau (rOvIFN-τ) on the modulation of MHC class I and II expression on cloned mouse cerebrovascular endothelial (CVE) cells. IFN-tau induced tyrosine phosphorylation of Stat1 and up regulated the expression of MHC class I on CVE. One proposed action by which type I IFN reduce the relapse rate in MS is via interference with IFN-gamma-induced MHC class II expression. IFN-τwas shown to down regulate IFN-gamma-induced MHC class II expression on CVE and, hence, may be of potential therapeutic value in down regulating inflammation in the central nervous system (CNS). IFN-τdid not upregulate the expression of MHC class II on CVE. IFN-τalso inhibited the replication of Theiler's virus in CVE.
Source
Yeast
Molecular Weight
Approximately 19.9 kDa, a single glycosylated polypeptide chain containing 172 amino acids.
Biological Activity
Fully biologically active when compared to IFN-alpha. The specific activity determined by a viral resistance assay is no less than 1.0 × 107 IU/mg.
Appearance
Sterile filtered white lyophilized (freeze-dried) powder.
Formulation
Lyophilized from a 0.2 um filtered concentrated solution in PBS, pH 7.4.
Endotoxin
Less than 0.1 EU/ug of rOvIFN-τ as determined by LAL method.
Reconstitution
We recommend that this vial be briefly centrifuged prior to opening to bring the contents to the bottom. Reconstitute in sterile distilled water or aqueous buffer containing 0.1 % BSA to a concentration of 0.1-1.0 mg/mL. Stock solutions should be apportioned into working aliquots and stored at ≤ -20°C. Further dilutions should be made in appropriate buffered solutions.
Stability and Storage
Use a manual defrost freezer and avoid repeated freeze-thaw cycles.- 12 months from date of receipt, -20 to -70 °C as supplied.- 1 month, 2 to 8 °C under sterile conditions after reconstitution.- 3 months, -20 to -70 °C under sterile conditions after reconstitution.
References
Purity
> 97 % by SDS-PAGE and HPLC analyses.
SDS-PAGE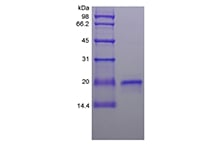 Pack Size
10ug/100ug/500ug
Safety Data Sheet (SDS) Download
Technical Data Sheet (TDS) Download
Links
This product is branded by ChemWhat and sold through our website and here is the corresponding link Recombinant Ovine Interferon-tau (rOvIFN-τ) on ChemWhat
https://www.watson-bio.com/wp-content/uploads/2021/11/sds-page-166-07-6.jpg
160
220
great_watson-int
https://www.watson-bio.com/wp-content/uploads/2022/03/New-logo.png
great_watson-int
2021-11-30 03:00:50
2023-09-04 11:10:34
Recombinant Ovine Interferon-tau (rOvIFN-τ)