Official Full Name
Recombinant Murine Fibroblast Growth Factor 21 (rMuFGF-21)
Synonyms
Squence

Amino Acid Sequence
AYPIPDSSPL LQFGGQVRQR YLYTDDDQDT EAHLEIREDG TVVGAAHRSP ESLLELKALK PGVIQILGVK ASRFLCQQPD GALYGSPHFD PEACSFRELL LEDGYNVYQS EAHGLPLRLP QKDSPNQDAT SWGPVRFLPM PGLLHEPQDQ AGFLPPEPPD VGSSDPLSMV EPLQGRSPSY AS
Synonyms
Accession
Gene ID
Summary
Fibroblast growth factor-21 (FGF-21) belongs to the large FGF family and it is specifically induced by HMGCS2 activity. In mice, brown adipose tissue becomes a source of systemic FGF21 after cold exposure. FGF-21 stimulates glucose uptake in differentiated adipocytes via the induction of glucose transporter SLC2A1/GLUT1 expression (but not SLC2A4/GLUT4 expression) and the activity depends on the presence of KLB. FGF-21, in the presence of betaKlotho as a protein cofactor, signals through the FGFR 1c and 4 receptors. Recombinant murine FGF-21 contains 182 amino acids residues and show limited binding to heparin. In addition, Murine FGF-21 respectively shows 81 % and 92 % a.a. identity to human and rat FGF-21, and it show activity on human and rat cells.
Source
Escherichia coli.
Molecular Weight
Approximately 19.9 kDa, a single non-glycosylated polypeptide chain containing 182 amino acids.
Biological Activity
Fully biologically active when compared to standard. The ED50 as determined by thymidine uptake assay using FGF-receptors transfected BaF3 cells is less than 0.5 ug/ml, corresponding to a specific activity of > 2.0 × 103 IU/mg in the presence of 5 ug/ml of rMuKlotho-β and 10 ug/ml of heparin.
Appearance
Sterile filtered white lyophilized (freeze-dried) powder.
Formulation
Lyophilized from a 0.2 um filtered concentrated solution in 3 × PBS, pH 7.4.
Endotoxin
Less than 1 EU/ug of rMuFGF-21 as determined by LAL method.
Reconstitution
We recommend that this vial be briefly centrifuged prior to opening to bring the contents to the bottom. Reconstitute in sterile distilled water or aqueous buffer containing 0.1 % BSA to a concentration of 0.1-1.0 mg/ml. Stock solutions should be apportioned into working aliquots and stored at ≤ -20 °C. Further dilutions should be made in appropriate buffered solutions.
Stability and Storage
Use a manual defrost freezer and avoid repeated freeze-thaw cycles.- 12 months from date of receipt, -20 to -70 °C as supplied.- 1 month, 2 to 8 °C under sterile conditions after reconstitution.- 3 months, -20 to -70 °C under sterile conditions after reconstitution.
References
Purity
> 97 % by SDS-PAGE and HPLC analyses.
SDS-PAGE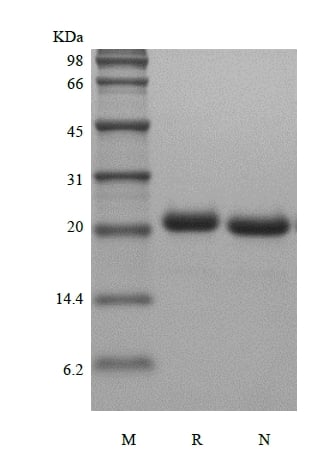 Pack Size
5ug/100ug/500ug
Safety Data Sheet (SDS) Download
Technical Data Sheet (TDS) Download
Links
This product is branded by ChemWhat and sold through our website and here is the corresponding link Recombinant Murine Fibroblast Growth Factor 21 (rMuFGF-21) on ChemWhat
https://www.watson-bio.com/wp-content/uploads/2021/11/sds-page-124-21-6.jpg
474
331
great_watson-int
https://www.watson-bio.com/wp-content/uploads/2022/03/New-logo.png
great_watson-int
2021-11-30 03:05:52
2021-11-30 03:05:52
Recombinant Murine Fibroblast Growth Factor 21 (rMuFGF-21)