Official Full Name
Recombinant Human Neurotrophin-4 (rHuNT-4)
Synonyms
Neurotrophin-5, NT-5
Squence

Amino Acid Sequence
MGVSETAPAS RRGELAVCDA VSGWVTDRRT AVDLRGREVE VLGEVPAAGG SPLRQYFFET RCKADNAEEG GPGAGGGGCR GVDRRHWVSE CKAKQSYVRA LTADAQGRVG WRWIRIDTAC VCTLLSRTGR A
Synonyms
Neurotrophin-5, NT-5
Accession
Gene ID
Summary
NT-4 also named as NT-5 is a neuronal and epithelial grow factor belongs to the NGF-beta family. The NT-4 precursor is consisted of a 24 a.a. signal peptide, a 56 a.a. propertied and 130 a.a. NT-4. The mature protein has six Cys amino acid residues and has the relative structure with NT-3, BDNF (sharing about 48 % – 52 % sequence identity). Additionally, it shares 91 % and 95 % a.a. sequence identity with mouse and rat NT-4. NT-4 is mainly expressed in prostate and has low level thymus, placenta, and skeletal muscle. It can binding with the LNGFR and trkB receptors and plays a crucial role in the regulation of survival and the maintenance of peripheral sensory sympathetic neurons. Defect of NT-4 may cause primary open angle glaucoma type 1O.
Source
Escherichia coli.
Molecular Weight
Approximately 28.1 kDa, a noncovalently linked homodimer of two 14.0 kDa polypeptide monomers (262 total amino acid residues).
Biological Activity
Fully biologically active when compared to standard. The ED50 as determined by the dose-dependent induction of choline acetyl transferase activity in rat basal forebrain primary septal cell cultures is less than 50 ng/ml, corresponding to a specific activity of > 2.0 × 104 IU/mg.
Appearance
Sterile filtered white lyophilized (freeze-dried) powder.
Formulation
Lyophilized from a 0.2 um filtered concentrated solution in PBS, pH 5.5.
Endotoxin
Less than 1 EU/ug of rHuNT-4 as determined by LAL method.
Reconstitution
We recommend that this vial be briefly centrifuged prior to opening to bring the contents to the bottom. Reconstitute in sterile distilled water or aqueous buffer containing 0.1 % BSA to a concentration of 0.1-1.0 mg/mL. Stock solutions should be apportioned into working aliquots and stored at ≤ -20 °C. Further dilutions should be made in appropriate buffered solutions.
Stability and Storage
Use a manual defrost freezer and avoid repeated freeze-thaw cycles.- 12 months from date of receipt, -20 to -70 °C as supplied.- 1 month, 2 to 8 °C under sterile conditions after reconstitution.- 3 months, -20 to -70 °C under sterile conditions after reconstitution.
References
Purity
> 97 % by SDS-PAGE and HPLC analyses.
SDS-PAGE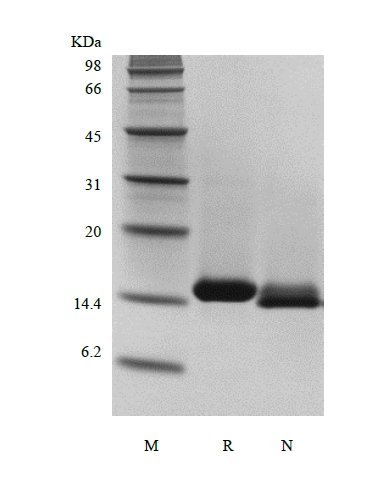 Pack Size
10ug/100ug/500ug
Safety Data Sheet (SDS) Download
Technical Data Sheet (TDS) Download
Links
This product is branded by ChemWhat and sold through our website and here is the corresponding link Recombinant Human Neurotrophin-4 (rHuNT-4) on ChemWhat
https://www.watson-bio.com/wp-content/uploads/2021/11/sds-page-107-04-6.jpg
484
367
great_watson-int
https://www.watson-bio.com/wp-content/uploads/2022/03/New-logo.png
great_watson-int
2021-11-30 03:02:29
2023-09-04 11:09:51
Recombinant Human Neurotrophin-4 (rHuNT-4)