Official Full Name
Recombinant Human Matrix metalloproteinase-14 (rHuMMP-14)
Synonyms
MMP-X1, MT-MMP 1, MT1-MMP
Squence

Amino Acid Sequence
ALASLGSAQS SSFSPEAWLQ QYGYLPPGDL RTHTQRSPQS LSAAIAAMQK FYGLQVTGKA DADTMKAMRR PRCGVPDKFG AEIKANVRRK RYAIQGLKWQ HNEITFCIQN YTPKVGEYAT YEAIRKAFRV WESATPLRFR EVPYAYIREG HEKQADIMIF FAEGFHGDST PFDGEGGFLA HAYFPGPNIG GDTHFDSAEP WTVRNEDLNG NDIFLVAVHE LGHALGLEHS SDPSAIMAPF YQWMDTENFV LPDDDRRGIQ QLYG
Synonyms
MMP-X1, MT-MMP 1, MT1-MMP
Accession
Gene ID
Summary
Source
Escherichia coli.
Molecular Weight
Approximately 29.6 kDa, a single non-glycosylated polypeptide chain containing 264 amino acids.
Biological Activity
Test in Process.
Appearance
Sterile colorless liquid.
Formulation
Supplied as a 0.2 um filtered solution in 20 mM Tris-HCl, pH 7.4, 300 mM NaCl, 3 mM CaCl2,10 uM ZnCl2, with 30 % glycerol.
Endotoxin
Less than 1 EU/ug of rHuMMP-14 as determined by LAL method.
Reconstitution
Stability and Storage
Use a manual defrost freezer and avoid repeated freeze-thaw cycles.- 6 months from date of receipt, -20 to -70 °C as supplied.- 3 months, -20 to -70 °C under sterile conditions after opening.
References
Purity
> 95 % by SDS-PAGE and HPLC analyses.
SDS-PAGE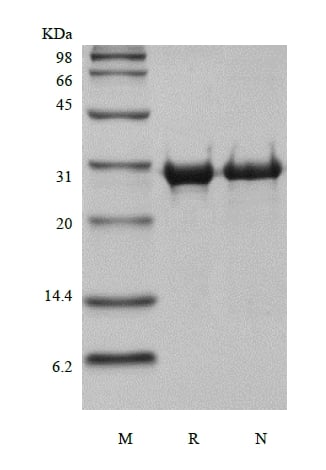 Pack Size
10ug/100ug/500ug
Safety Data Sheet (SDS) Download
Technical Data Sheet (TDS) Download
Links
This product is branded by ChemWhat and sold through our website and here is the corresponding link Recombinant Human Matrix metalloproteinase-14 (rHuMMP-14) on ChemWhat
https://www.watson-bio.com/wp-content/uploads/2021/11/sds-page-401-15-6.jpg
470
326
great_watson-int
https://www.watson-bio.com/wp-content/uploads/2022/03/New-logo.png
great_watson-int
2021-11-30 02:57:49
2023-09-04 11:12:19
Recombinant Human Matrix metalloproteinase-14 (rHuMMP-14)