Official Full Name
Recombinant Human Interferon-alpha2b, Ecoli. (rHuIFN-alpha2b,Ecoli.)
Synonyms
Squence

Amino Acid Sequence
MCDLPQTHSL GSRRTLMLLA QMRRISLFSC LKDRHDFGFP QEEFGNQFQK AETIPVLHEM IQQIFNLFST KDSSAAWDET LLDKFYTELY QQLNDLEACV IQGVGVTETP LMKEDSILAV RKYFQRITLY LKEKKYSPCA WEVVRAEIMR SFSLSTNLQE SLRSKE
Synonyms
Accession
Gene ID
Summary
IFN-alphas are proteins secreted by leukocyte. They are mainly involved in innate immune response against viral infection. The IFN-alpha family has 13 subtypes and 23 different variants. The individual proteins have molecular masses between 19-26 kDa and consist of proteins with lengths of 156-166 and 172 amino acids. All IFN-alpha subtypes possess a common conserved sequence region between amino acid positions 115-151 while the amino-terminal ends are variable. Many IFN-alpha subtypes differ in their sequences at only one or two positions. Naturally occurring variants also include proteins truncated by 10 amino acids at the carboxy-terminal end.
Source
Escherichia coli.
Molecular Weight
Approximately 19.4 kDa, a single non-glycosylated polypeptide chain containing 166 amino acids.
Biological Activity
Fully biologically active when compared to standard. The specific activity determined by an anti-viral assay is no less than 1.0 × 108 IU/mg.
Appearance
Sterile filtered white lyophilized (freeze-dried) powder.
Formulation
Lyophilized from a 0.2 um filtered solution in PBS, pH 7.4.
Endotoxin
Less than 1 EU/ug of rHuIFN-α2b, Ecoli. as determined by LAL method.
Reconstitution
We recommend that this vial be briefly centrifuged prior to opening to bring the contents to the bottom. Reconstitute in sterile distilled water or aqueous buffer containing 0.1 % BSA to a concentration of 0.1-1.0 mg/mL. Stock solutions should be apportioned into working aliquots and stored at ≤ -20 °C. Further dilutions should be made in appropriate buffered solutions.
Stability and Storage
Use a manual defrost freezer and avoid repeated freeze-thaw cycles.- 12 months from date of receipt, -20 to -70 °C as supplied.- 1 month, 2 to 8 °C under sterile conditions after reconstitution.- 3 months, -20 to -70 °C under sterile conditions after reconstitution.
References
Purity
> 96 % by SDS-PAGE and HPLC analyses.
SDS-PAGE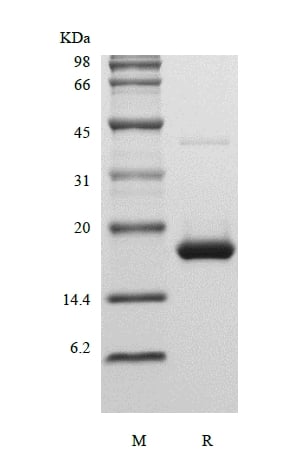 Pack Size
100ug/500ug
Safety Data Sheet (SDS) Download
Technical Data Sheet (TDS) Download
Links
This product is branded by ChemWhat and sold through our website and here is the corresponding link Recombinant Human Interferon-alpha2b, Ecoli. (rHuIFN-alpha2b,Ecoli.) on ChemWhat
https://www.watson-bio.com/wp-content/uploads/2021/11/sds-page-106-04E-6.jpg
475
306
great_watson-int
https://www.watson-bio.com/wp-content/uploads/2022/03/New-logo.png
great_watson-int
2021-11-30 03:02:29
2023-09-04 11:09:54
Recombinant Human Interferon-alpha2b, Ecoli. (rHuIFN-alpha2b,Ecoli.)