Identification
CAS Number
9024-82-2
EC Number
3.6.1.1
Name
Pyrophosphatase Inorganic
Synonyms
17-(Cyclobutylmethyl)-4,5-epoxymorphinan-3,6,14-triol [ACD/IUPAC Name]
17-(Cyclobutylmethyl)-4,5-epoxymorphinan-3,6,14-triol [German] [ACD/IUPAC Name]
17-(Cyclobutylméthyl)-4,5-époxymorphinane-3,6,14-triol [French] [ACD/IUPAC Name]
Morphinan-3,6,14-triol, 17-(cyclobutylmethyl)-4,5-epoxy- [ACD/Index Name]
(4R,4aS,7S,7aR,12bS)-3-(cyclobutylmethyl)-1,2,4,5,6,7,7a,13-octahydro-4,12-methanobenzofuro[3,2-e]isoquinoline-4a,7,9-triol
(5α,6α)-17-(Cyclobutylmethyl)-4,5-epoxymorphinan-3,6,14-triol
9024-82-2 [RN]
Morphinan-3,6,14-triol, 17-(cyclobutylmethyl)-4,5-epoxy-, (5α,6α)-
Nalbuphine [INN] [Wiki]
N-Cyclobutylmethyl-14-hydroxydihydronormorphine
SMILES
c1cc(c2c3c1CC4C5(C3(CCN4CC6CCC6)C(O2)C(CC5)O)O)O
StdInChI
InChI=1S/C21H27NO4/c23-14-5-4-13-10-16-21(25)7-6-15(24)19-20(21,17(13)18(14)26-19)8-9-22(16)11-12-2-1-3-12/h4-5,12,15-16,19,23-25H,1-3,6-11H2
StdInChIKey
NETZHAKZCGBWSS-UHFFFAOYSA-N
Molecular Formula
C21H27NO4
Molecular Weight
357.443
EINECS
232-784-7
MDL Number
MFCD00131379
Properties
Optimal reaction temperature
25℃
Definition of active unit
1 active unit is defined as the amount of enzyme needed to hydrolyze inorganic pyrophosphate and produce 1 μmol of phosphate in 1min under standard reaction conditions (standard reaction conditions: in 10 min at 25℃ , 0.5mL reaction system containing 100 mM Tris HCl, pH7.2, 2mM Mgcl2 and 2mM inorganic pyrophosphate).
Safety Data
RIDADR
NONH for all modes of transport
WGK Germany
3
Specifications and Other Information of Our Pyrophosphatase Inorganic 9024-82-2
Product Introduction
This product is the Pyrophosphatase Inorganic recombinantly expressed in E. coli. After binding to magnesium ions, it catalyzes the hydrolysis of inorganic pyrophosphate to produce phosphate, and avoids its inhibition of the reaction system, thereby improving the yield of in vitro transcription of RNA.
Product Features
Effectively increasing the RNA yield of in vitro transcription.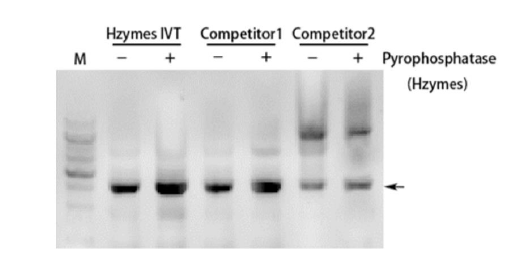 Product Composition
Item No.
Composition
Storage Temperature
(℃ )
10U
100U
I
Pyrophosphatase Inorganic (yeast) (0.1 U/μL)
-20
100μL
1000μL
Quality Control
Purity ≥ 95%, residual host cell DNA ≤ 100pg/mg, residual host cell protein ≤ 50ppm, residual endotoxin ≤10EU/mg, no residual RNase, endonuclease, exonuclease or protease, germ-free, pathogen-free.
Links
This product is developed by our R&D company Watson International Ltd (https://www.watson-int.com/).
https://www.watson-bio.com/wp-content/uploads/2021/09/Structure-of-Pyrophosphatase-Inorganic-CAS-9024-82-2.jpg
150
150
Janice Zhang
https://www.watson-bio.com/wp-content/uploads/2022/03/New-logo.png
Janice Zhang
2021-09-23 06:15:35
2021-09-23 06:15:38
Pyrophosphatase Inorganic CAS 9024-82-2