Description
Antigen CAS
None
Name
Anti-D-Dimer antibody
Synonyms
D-dimer antibody, Anti-D-dimer antibody, Ddimer antibody, D dimer antibody
Host
Mouse; Goat; Rabbit
Reactivity
All species
Antibody Product Type
Primary
Use
Detection; Capture
Conjugate
Unconjugated; Biotin; APC; Alkaline Phosphatase (AP); FITC; HRP; PE
Specifity
It recognises epitopes that reside between amino acids 86 and 302 in the gamma-chain of fragment D chains of fibrinogen (Fragment D) and other cross-linked fibrin degradation products containing D-Dimer, but no reactivity with Fragment D or E, fibrinogen or fibrinogen degradation products.
Storage
Store at 4°C for frequent use. Stored at -20°C in a manual defrost freezer for a year without detectable loss of activity. Avoid repeated freeze-thaw cycles.
Application
ELISA; Immunohistochemistry (IHC); Western Blotting (WB); Immunofluorescence (fixed cells) (IF/ICC); Immunoprecipitation (IP); Cell-ELISA (cELISA); Immunoassay (IA); Immunocytochemistry (ICC)
Properties
Form
Liquid/Lyophilized
Handling
The antibody solution should be gently mixed before use.
Clonality
Monoclonal/Polyclonal
Isotype
IgG
General View of Documents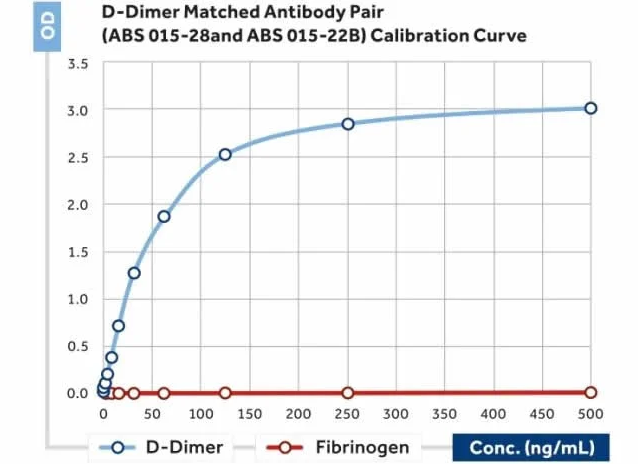 Safety Data
RIDADR
NONH for all modes of transport
Links
Watson International Ltd
This product is sold exclusively through our sales company Watson International Ltd, and please click the link below for details.
http://www.watson-int.com/anti-d-dimer-antibody/
https://www.watson-bio.com/wp-content/uploads/2020/09/Anti-D-Dimer-antibody.png
464
638
Janice Zhang
https://www.watson-bio.com/wp-content/uploads/2022/03/New-logo.png
Janice Zhang
2020-09-18 07:03:49
2020-09-18 08:46:18
Anti-D-Dimer antibody